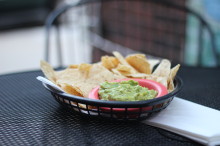 While reports all over the radio waves are calling Sioux Falls, South Dakota some sort of a boom town, by the time we reached it we knew very little, if anything, about their food scene. Luckily, a friend of mine hails from the largest town in South Dakota and pointed us towards Mama's Ladas, a Mexican place in a town that feels about a far from Mexico as possible.
Now, to call it a Mexican place really doesn't do Mama's Ladas justice. As you might be able to tell by the name, enchiladas are the specialty and although they may be Mexican, the menu doesn't go very far past them in the realm of Mexican cuisine. This is no problem, though, as long as the enchiladas are awesome.
We began with chips and guacamole, which were quite tasty. The chips themselves were upscale grocery-store types, but the guac was fresh and delicious despite having tomatoes in it. For my enchilada (I wasn't hungry enough for two), I chose beef, which was said to be spicy and came topped with lettuce, tomatoes and sour cream. I opted not to get any of these because I didn't want them to dilute my cheese and meat.
That cheese and meat, though, turned out to be quite good. The beef was ground, but nicely spiced and the whole thing was covered with just the right amount of perfectly melted cheese. Mama's Ladas was certainly a nice little stop, and while it may not have blown the lid off the world of enchiladas, it certainly delivered the goods.