The Chipotle model has been followed by many other fast casual Mexican spots since its inception. And why not? It's nice to customize burritos and even nicer when you get to mix things up here and there. That's where Asada Mexican Grill in Wynchwood, Toronto comes in. Like Chipotle, it has all the customization you'd want, with extra options like al pastor, refried beans, and a salsa bar. I was excited about the prospects and picked out my order.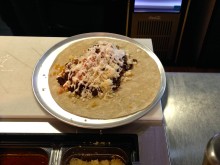 I started with a regular white tortilla (made in-house), rice, whole pinto beans, cheese and something called Baja Sauce that seemed delicious. As for my meat, I picked a combination of carne asada and something called Cochinita Pibil. According to Asada, Cochinita Pibil is a Mayan Pulled Pork and since I didn't quite know what it was, I wasn't ready to commit to a full burrito filled with it. With all that inside, the burrito was massive and I denied the push to throw more food in because it was mostly veggies anyway. I was impressed that they were able to wrap it all up, but they managed to do so and offered to grill it up a bit and I agreed to it.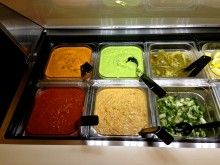 Meanwhile, I loaded up on a couple of salsas from the salsa bar. Some of the options were jalapeno garlic, salsa fresca and arbol. After a little tasting the only one I had no need for was the salsa fresca. The other two were pretty spicy, but still flavorful. Oh yeah, I also had some of their spicy salsa in the burrito itself, which was different from anything offered in the salsa bar. If you're craving salsa and want to make your own at home, check out this canned salsa recipe. It's really good!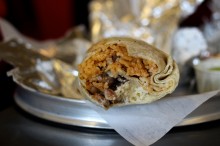 As for the burrito itself, it was nothing short of delicious. According to Asada, all the meat is free of hormones and local as possible, and this did seem to come through in the great flavor. My fear of the unknown Cochinita Pibil was unfounded, as the pulled pork was delicious. Yet, I felt as though I would have been missing out if I had not ordered the namesake meat and found them to live harmoniously together in my burrito and stomach.
Grilling the tortilla was a nice touch and it made the cheese deliciously melty. It also helped hold the thing together after I tore the foil apart. It wasn't easy going getting through the burrito, but this wasn't due to a lot of filler. Instead, Asada loaded the burrito up with the good stuff – meat, cheese and tasty beans.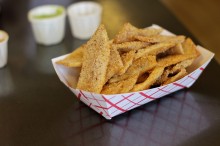 Then, perhaps because she saw my camera, the lady who seemed to be running the place brought us out an order of their Dessert Nachos. Despite how full I was, these looked delicious and I managed to force a few of them down. Surprisingly, the nachos were soft and had much more of a churro-esque texture than I had expected. To make them dessert, they were tossed in cinnamon and sugar, which also probably added to the churro feeling I got.
In all, I was impressed by Asada. The options were great, the execution was stellar and the free dessert was a nice touch. Asada took care of business and the only hard part was leaving it behind as I left Toronto.