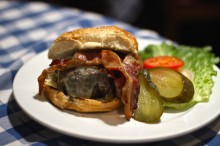 As a man who loves his burgers, I often try to find the best burger I can when I go to a new city. In Toronto, this meant a trip to Allen's. Allen's charges a hefty price for their burgers, but they come from a local farm, without hormones or antibiotics and all the other stuff that means great meat. Moreover, the butchering and grinding is done in-house, guaranteeing each burger comes from just one cow.
I ordered mine topped with Aged Ontario Cheddar and bacon (not the Canadian kind, the real kind) and without lettuce, tomato, pickle and onion. I also ordered it medium-rare. Despite the expectations, I was wildly disappointed with what arrived on my plate. Accompanying my burger was a pile of unwanted vegetables and a burger that seemed a bit small for the price. I passed the veggies off to the wife and went to work on the burger, which was really damn good.
The meat itself had great flavor and seemingly without any special seasoning. It wasn't bursting with juiciness, but was far from dry. The cheddar was perfectly melted and the bacon was quite crispy. The bun was simple, but toasted nicely and held together well.
A little more meat and a lot fewer veggies would have taken Allen's a long way. It also would have been great if it came with some sort of side. Instead, I left satisfied by my burger, but hoping Toronto had more to offer than just Allen's in that department.