Banff is not just a funny word, it's also the name of an incredible national park in Alberta and a town in that same province. In said town, food can be a bit too pricey for poor road trippers, so the wife and I found ourselves at Eddie Burger Bar. Being the most reasonably-priced meal we could find, I hoped it would give me a better showing than my burger in Blue River.
After a long browse of the menu, I finally made my decision: I would boldly go where very few humans had gone before. This was the PB&J Burger. That's right, PB&J in a burger, but that's not all. It also was topped with jalapeno jack cheese, Canadian double smoked bacon, tomato and lettuce on a pretzel bun. And in case you're wondering what kind of jelly was in it, it was actually lingonberry jam. I ordered mine medium-rare without the tomato and lettuce, then had my fries upgraded to poutine simply because I could.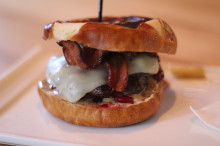 The result looked mighty good and started out strong in terms of taste. Shockingly, all the ridiculous ingredients worked really well with each other. It's pretty hard to explain, but somehow it was as if peanut butter, jam and burger had been meant to be. Except that the burger itself was pretty dry and nowhere near medium-rare. As opposed to the night before, at least this one was helped by the viscous nature of the ingredients.
As for the poutine, it definitely could not beat Fritz, but in truth there are probably not many poutines outside of the French end of the Great White North that could. This one hovered a bit too long on the salty side, but was still a damn good alternative to plain fries.
For a reasonable meal, Eddie Burger Bar is probably one of the best options in Banff. The burgers could use a little less time on the grill, but they definitely aren't boring.