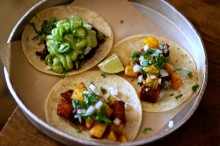 While Toronto is a couple borders north of the border, it is an incredibly diverse city with food from just about everywhere. One of the foods we wanted to check out was tacos, and this led us to Grand Electric. Now, going into this we knew that Grand Electric wasn't going to be serving up traditional Mexican fare, but the menu seemed good enough that it didn't matter.
While the taco selection seemed perfect for an unvegan, with the only veggie-based choice being cauliflower, each had some hidden vegetable agenda. And the worst part was that my hipster waitress informed me they "don't do mods." I translated this to mean they don't do moderations, not even for removals. I could get into how stupid this is, but I won't because there are children present. Somewhere.
Nonetheless, I ordered their Pork Belly taco, which came with pickled pineapple, onions, cilantro, cotija cheese and salsa. I also ordered some of their chilaquiles, which were topped with green sauce, crema, cotija, cilantro, onions and a fried egg. After picking out the undesirables from my food, I set out to eat and found the results to be favorable. The pork belly taco was prepared with nice cubes of belly, immediately distinguishing it from average bacon. The salsa and other ingredients went together so well that I could hardly comprehend why they would even add onions.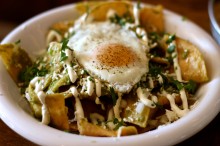 The same went for the chilaquiles. These delicious breakfast nachos had just the right amount of toppings to ensure that no chip was left naked, but even if that had been the case these chips were good enough to hold their own. Plus, they put up a strong battle against the sogginess that can often overwhelm nachos. On top of all this, the egg was cooked perfectly runny.
Truth be told (because lies are no fun at all), I would actually come back for the chilaquiles more than the tacos. Sure, they were good, but I would have needed about 7 of them to fill me up. The chilaquiles, on the other hand, got the job done without sacrificing quality for quantity. And in a world without mods, that can mean all the difference.