To some it is easy to write Japanese food off as sushi and stuff. Yet, I love Japanese food and have no need for sushi, which means I love places like Toronto. Why? Because Toronto has a diversity of Japanese food to offer, like ramen and curry. One of these places is Gyugyuya, specializing in Japanese curry. Situated right next to a popular ramen spot, it was strangely empty inside and waiting for my wife and I to eat.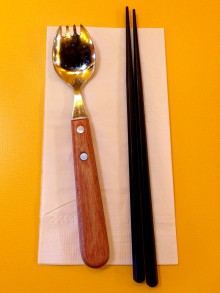 When it comes to Japanese curry, all I really care about is Chicken Katsu Curry, and Gyugyuya had it right there on the menu. It obviously wasn't their specialty because it was smaller on the menu than other items, but I still had to have it. It came with a boiled egg and rice. Unfortunately, I thought that the menu picture was sporting rice when it was cabbage instead, while the rice came in underneath the chicken.
The cabbage was easy to avoid, despite being very unwelcome. The main part of the meal, though, was pretty good. I was surprised that the curry didn't have a spiciness option, but found the curry to be decently spicy. It could have been hotter, but was at a nice level to please the masses. The chicken was nice and moist on the inside and crispy outside, just as I would have hoped from katsu. The egg was nice to have, but certainly not something that had a major impact on the meal.
Gyugyuya turned out to be a good place to grab some curry. It hit the spot and left me wishing I had similar Japanese curry within closer proximity than Toronto.