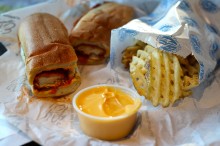 Mexican food and subs seems to be a combination prevalent in Buffalo. In trying to account for this, I've come to the conclusion that both are delicious after a few drinks. Still, a lot of things are delicious after tossing a few back, so I'm not quite sure how this combination formed. Nonetheless, the curiosity brought me to Elmwood Taco & Subs in Elmwood Village, where they have another surprise to throw in with the tacos and sandies.
After much contemplation, which is necessary when deciding between two intrinsically different food types, I decided on a sub. I went with chicken tender, because I actually still hadn't had one (unless you count the stinger) and this seemed just the place to start. Now, for those of you that don't know Buffalo, chicken tender subs are actually spicy like wings and I went with their hot sauce (as opposed to medium or mild). It came with cheese (white American), lettuce and tomatoes, and I immediately rejected the latter two toppings. I also snagged an order of waffle fries with cheese. I can never say enough about waffle fries, so I had to get them.
The 12 inch sub was bigger than I expected, but quite tasty. I was a big fan of the spicy sauce and the way the chicken filled out the sub so nicely. The waffle fries came in a bag and was also much bigger than I expected. Despite looking pale and white, they were actually nice and crispy, going perfectly with the cup of cheese that smartly came on the side in order to avoid sogginess.
Elmwood Taco & Subs was a nice little spot in a cool part of town. The food seems nice and consistent; the kind of place I could see myself regularly if it was closer. It wasn't spectacular, but then it is hard to be too amazing with subs and waffle fries were a nice touch. If I make it back, I'll have to shift over to tacos and see what that could offer.