It's easy to make a sandwich special by putting unique items into it. I still applaud places like that, but it something even more special to take a pretty basic sandwich and make it exceptional. I always loved Bay Cities for doing this in LA (in no small part because of the bread), and while it is nothing at all like Bay Cities, I have found a place that follows the same mold in Buffalo. It is called John & Mary's Subs, and while it seems like your average Buffalo subs and tacos spot, I found my sub to be much more.
While Jim's SteakOut can be found almost everywhere in Buffalo, I found their Stinger to be a bit lacking. Nonetheless, I decided to give the Stinger another chance when I went to John & Mary's. For those of you that don't know, the Stinger is a combination of steak and chicken fingers (and up in this part of the world chicken fingers are sauced up with buffalo sauce). On top of the steak and fingers, it came with "cheese." I ordered my fingers hot and got some blue cheese when asked if I wanted some for a little upcharge.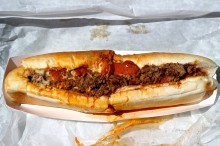 It took a surprisingly long time to prepare, although this is a nice change from fast food. Plus, it was well worth the wait. The sub was positively oozing with meat. It was loaded to the gills with steak, and the fingers played a backup role that suited them well. Fortunately, there was still enough hot sauce to give the sub some delicious flavor to go along with the blue cheese. The bread used for the hoagie itself did exactly what it had to do: it stayed in one piece. Sometimes the bread can make or break the sandwich, but with John & Mary's it simply played the role of meat conduit and it played it perfectly.
Of the subs I have had so far in Buffalo, John & Mary's takes the top honors thus far. I'd take another stinger like this any day.