Elmwood Village is definitely one of the cooler parts of Buffalo, with lots of cool shops and restaurants. One of these restaurants is a gastropub known as Blue Monk. Where the name comes from, I cannot say, because a look at the menu might have led me to think it should be called Blue Duck (in the style of Billy Madison). That's because half of the menu items seemed to be duck-based.
Yet, for my main course I couldn't keep my eyes off of the Thelonious Monk Burger. Topped with bacon, caramelized onions, gruyere and arugula, a fried egg could be added for a bit of an upcharge. It came with housemade chips and a possibility for an upgrade to fries, but my mom and step-dad each got some fries so I knew I would be okay. I ordered without the onions and arugula, and got the burger medium-rare.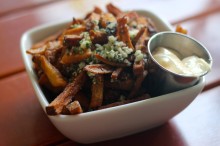 The fries came first. My mom had ordered the San Francisco Frites, which by name I suppose followed in the monk theme. These were fried in duck fat, then tossed in parmesan, garlic, herbs and olive oil. They also came with a sea salt aioli, which tasted like any basic aioli with a fancy name. The fries were quite good, which was not surprising as I've always been a fan of duck fat fries. The garlic and parm added to their already rich flavor, and it was definitely good to share these fries because they were heavy as hell.
As for the burger, it was prepared pretty perfectly. The burger was nice and juicy, the cheese was perfectly melted and the egg had a nice runniness to it that exploded with yolk when I pressed the burger hat upon its head. When I bit in, my cup runneth over with perfect burger taste. I don't know why the place even considered arugula and onions, because this thing was in nice balance with the thick, crispy bacon treating the burger to even greater taste. Oh yeah, I can't forget that the meat itself was also delicious.
I was happier than expected with my burger, because while Buffalo has a number of specialties, burgers aren't one of them. If Buffalo was a long-term residence of mine, I would make Blue Monk a regular destination.