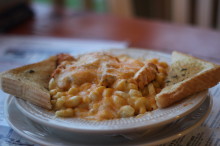 The town of St. Ignace in Michigan's Upper Peninsula seems to exist solely to serve those people heading to Macinac Island. This makes it a bit of a tourist trap, with restaurant prices far exceeding those in a more distant proximity with Machinac Island. Nonetheless, we needed food and we found the Mackinac Grille. The place was set up like a big sports bar with a view of the lake and some outdoor seating that called our names despite the impending rain.
For my meal I chose their "Mack" and Cheese, a fine pun if I do say so myself. It came with garlic bread and I classed it up even more by adding grilled chicken. The result was a pretty much what I had been expecting: a simple mac and cheese without too much complexity in terms of flavor. However, it was loaded with more melty cheese than most people could possibly take down in one sitting. I admit I am one of those people, because this mac and cheese beat me down.
For its location in a touristy place, Mackinac Grille was basically what I expected it to be. Nothing too interesting, but nothing really disappointing either.