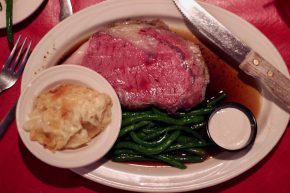 Harbor Springs is a lovely little town up in Northern Michigan, and yet between it and Petoskey (another lovely, somewhat bigger town), there isn't much beyond trees, condos, lakes and a couple of ski mountains. Oh, and there's also Teddy Griffin's Roadhouse, which has been situated there as long as I can remember. They serve up a combination of bar food, fancier European-style food, Great Lakes food and some of the most delicious bread in the world.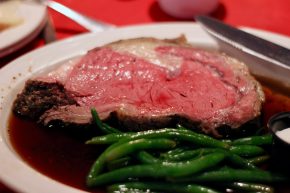 One of their specialties is prime rib, and I just had to have it. I ordered it medium rare and it came out looking like a dream, well aside from the random green beans it came with. On the other had it also came with a pleasant surprise of au gratin potatoes, so I thought they kind of canceled each other out.
Alas, the prime rib was cooked perfectly and was even tastier with a dip of the horseradish sauce. The seasoning was subtle, but enough to bring out the beefy flavor, and I have never seen a juicier plate of beef. It was almost enough to make me forget about the green beans.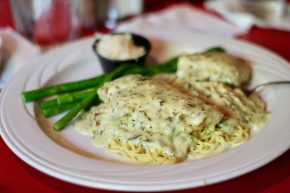 In fact, in the week we spent Up North, we returned to Teddy Griffin's and this time around I went with the Pesto Chicken, which was made with a creamy pesto sauce on angel hair pasta. While this dish was also quite delicious, it was also held back by being served with unwanted green vegetables. This time they came in the form of asparagus and the rich, creamy sauce and tender chicken breasts could only do so much to gloss over that egregious error.
Teddy Griffin's was a great way to bookend the trip Up North, but they have got to get their vegetables in order. Until they do so, they will always have an asterisk next to their otherwise delicious dishes.