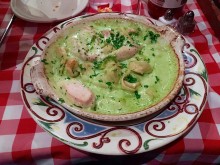 In Boulder (and a couple other places) there is an Italian restaurant that goes by the name of Pasta Jay's. While Jay is not a very Italian-sounding name, we nonetheless found ourselves eating there in our short trip to Boulder. Like many other Italian places, it had a pretty extensive menu filled with pizzas and pastas, but I wound up keeping myself in the pasta game. After all, the place wasn't called Pizza Jay's.
There was much deliberation, but then I made my decision: Chicken Pesto Tortelloni. This was exactly what it sounded like, with no extraneous ingredients aside from the delicious garlic bread that joined it on the side. The pesto sauce had a perfect amount of flavor, couple with a creaminess that was pretty much addictive. The tortelloni was stuffed with ricotta, which is obviously a win and the chicken was nice and tender, adding an appropriate and necessary meatiness to the meal.
Pasta Jay's wasn't exactly groundbreaking Italian, but it undoubtedly captured that local neighborhood Italian feel (or at least the American version of it). And when it comes to chicken, pesto and tortelloni, Pasta Jay's certainly knows how to hit the spot.