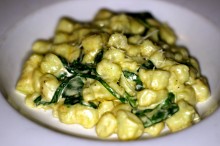 Since Niagara-on-the-Lake is a wine region, it comes as no surprise that there is a restaurant called the Old Winery. It may, however, come as a surprise that this spot features blues music on Saturday nights. It also features a pretty good selection of beer, pasta and grill items. Although I am typically a man of the grill, the pasta called my name because it went by the name of Gnocchi.
In this case, the Gnocchi was handmade ricotta in a gorgonzola cream sauce. It seemed so simple and perfect, but when my order arrived (long, long after we arrived because the staff seemed to take some sweet time just taking the order), I was disappointed to find some leafy green stuff swimming around amongst the pasta.
It turned out to be spinach and this was quite upsetting. I had to eat around it, but when I did, I found the gnocchi to be incredible. It was perfectly pillowy, and the sauce was just flavorful enough without being too rich, as cream sauces can often be.
After the lovely meal, we enjoyed some even lovelier music. The Old Winery was a great stop for a meal and a nightcap after a day of wineries, falls and mists.