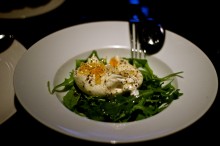 Lettuce Entertain You is kind of a juggernaut of restaurant groups in Chicago. It's hard to throw a stone in the city without hitting one of their many successful restaurants, and their empire goes beyond just the Second City. Yet, while in that city my sister booked us a table at RPM Italian, which I can only assume stands for Rotations Per Minute Italian. Oh and the super skinny lady from E! News is somehow involved, but I'm guessing she doesn't eat much of the food.
Since we were a group of five, we decided to start out with a couple of appetizers. The first was their Imported Burrata, which came topped with something called the mostarda fruit (a candied fruit condiment) and on a bed of arugula. Since we were splitting I couldn't order without the arugula, but I was happy with the burratta, which was nice and creamy, with an interesting sweet hint from the mostarda. We also ordered some of their Wood-Roasted Octopus, which I didn't get around to eating since there were bigger octopus lovers at the table, but I hear it was quite tasty.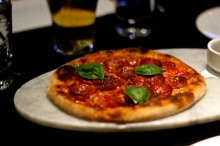 As our final precursor to the main meal, we had a Wood-Oven Pizzette topped with "charred pepperoni." I assumed "charred" was another word for "cooked" in this situation and it turned out I was right. On the other hand, although I knew the pizzette was going to be small, I was not at all prepared for how diminutive it actually was. I won't say that I could fit the whole thing in my hand because I didn't actually test it out, but yeah, I'm pretty sure it all could have fit in my hand. Of course, this is not to say it wasn't delicious. It was delicious, just shockingly small.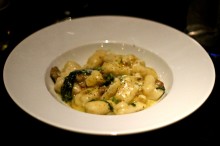 For my main course I went with my old standby of gnocchi. RPM's gnocchi came with sausage, rapini and chili flakes. When I learned that rapini was just another leafy green vegetable, I ordered the meal without it. Unfortunately, while the waiter remembered this detail, the kitchen failed to and I found greens swimming in my creamy sauce. When the waiter realized and offered to replace, I learned that my bro-in-law was happy to take away my rapini and I was able to enjoy my gnocchi in peace. Once again, the plate was small, but it packed a lot of flavor. The sauce was good, if a bit salty, but the gnocchi was as pillowy as I could hope and the sausage was a nice addition (although perhaps a reason for the excess saltiness).
I was happy with just about everything at RPM. I realize the dishes were small for a reason, you know, like quality over quantity or some shit like that. Nonetheless, the gnocchi could use some fine-tuning to get the flavors more in balance.