EDIT: Looks like real physical location downtown has displaced the truck, so you can still get in on this chicken.
From the casual diner to the most ardent foodie, everyone who enjoys eating out in LA has heard of Chef Ludo Lefebvre and his LudoBites pop-up restaurants that appear from time to time. Yet, while the LudoBites are impossible to get reservations for (and even when you get reservations, you don't even pick the times), there is a Ludo Truck that roams around town dishing out Chef Ludo's fried chicken with no reservations (thinly veiled Anthony Bourdain reference) necessary. During a time in which I was eating a lot of fried chicken, the truck came around my office.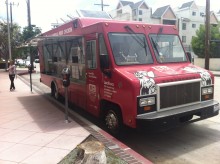 I had heard the Crispy Chicken Sandwich was a dream, and I wanted badly to take a bite out of one. But I found that the sandwich was topped with pickles and slaw, neither of which were to be found in the regular Buttermilk Chicken Strips. When I told the woman in the truck of my conundrum, she was quick to tell me that the sandwich was straight up the best thing on the menu and not just because of the fried chicken, but the bun as well. So I listened and ordered without the greens. I also ordered a side of fries for company.
I must say that the sandwich did a pretty good job of living up to the hype. Or, more specifically the chicken. This was no mere hastily concocted mix of batter, but rather a delicately crafted and perfectly balanced mix of spices and heaven. Coupled with Bearnaise sauce and a toasted brioche bun, I was one happy eater. Yet, while the sandwich contained two strips of chicken, it was the same price as three sandwich-less strips. While I enjoyed the bun, it didn't taste nearly as good as another strip of chicken would have. Unless, of course, the balance of batter flavor was dependent upon a bun buffer. I didn't think that was the case, but I was still very happy to have eaten the sandwich.
The fries, on the other hand, were pretty much a waste of money. They were over-salted and simply not cooked in a way that made me want to keep popping them in my mouth. Rather than a crispy outside and soft interior, they felt as though they had been left under a heat lamp for a few hours. Plus, I felt like I should gotten more fries for the money.
Yet, the fried chicken was enough to move me past the lackluster fries. Next time the Ludo Truck rolls around, you will find me in line for some chicken.