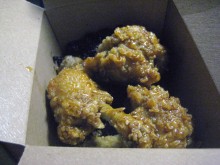 Combining Asian Food and Soul Food is kind of an interesting concept, and in doing so the Asian Soul Kitchen truck was born in LA. I decided to follow them on Twitter because their twitter name of "itsbentobaby" sounded pretty awesome to me. I found them on Abbot Kinney and took a look at their menu. Although some of their specific Asian foods like yakisoba looked good, I needed something with a lot more meat to it. To get that fix, I turned to their Lollipop Chicken.
This chicken was fried drumsticks covered in a tamarind glaze. The tamarind glaze was really what added the Asian touch to this chicken. It also came with a choice of white, brown or black rice, which isn't exactly the norm for fried chicken. Nonetheless, I decided to go with black rice. When my chicken was ready, it came in a nice little box, which definitely elicited thoughts of bento. Inside, there were three decent-sized drumsticks and a wad of rice.
The chicken tasted pretty good, and the sauce was also nice. It's hard to mess up fried chicken, but it's also hard to make it special, so while this was pretty good, it didn't change the way I think of fried chicken or make me always want to eat it with tamarind. Oh well. The price was also a bit steep. $5 is not a lot of money, but it is a lot for 3 drumsticks, especially when they tack on sales tax on top of that.
Asian Soul Kitchen was pretty good for a visit, but the Lollipop Chicken wasn't great enough to make me desire more.