My buddy, DCo, is a bit of a pizza snob. It works out well for me, because he likes to point me in the direction of awesome new and old pizza places. Recently, he told me about a new place called Lago D'Argento over in Silverlake. It took a bit of convincing, but finally I had a real reason to go to that part of town and decided to make a run for pizza while there. I invited another buddy, Jeff, to join and we checked the place out.
I was happy to find a good few pizza options on the menu that weren't just the basics. One of these was called Good Morning and was topped with Serrano ham, fried egg, Vermont cheddar and some pesto and Jeff and I decided to split that. But we weren't done there – we also went with their version of a meat lover's called the Carnivore. This pie had salami, fennel sausage, crispy bacon and Wisconsin mozzarella. If nothing else, this place knew the states to get cheese from.
Before going any further, I should note that upon my first bite of pizza at Lago D'Argento, it was clear that this was not the kind of place for pizza snobs. If you're looking for classic Italian pizza, do yourself a favor and don't be fooled by the Italian name of the place. If, on the other hand, you are a huge fan of American-style pizza, this place might just be for you and you should keep reading on.
Basically, when you break it down, the dough is nothing special. Think Dominos pizza, but fancied up a bit. Sure, I know that doesn't sound very good, but also realize that the ingredients are many levels above "fast food" pizza. While I love the fact that I'm seeing fried eggs all over the place, this was the first time I saw it on a pizza and they kept it nice and juicy. Good Morning could have used some more sauce to add flavor and actually impress me, but it was still an interesting pizza that I was glad to have eaten.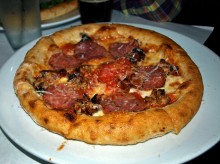 The Carnivore was a definite step up on that. Damn, meat is just so good. Each of the meats worked in delicious harmony with each other, but it just felt unfortunate that they weren't on an equally good dough conduit.
So here's the deal…when it all adds up, Lago D'Argento gets the job done. It's a level up from regular delivery, but fails to be much of a worthwhile enterprise. And again, if you're a pizza snob, you really shouldn't have even read this far into this review.