EDIT: This spot is gone, but that amazing fried chicken can be found in one of KyoChon's other locations.
While fried chicken is often considered the domain of Southern cooking and Buffalo wings, it is certainly not exclusive to those cuisines. In fact, some of the best fried chicken I've had can be found Asian dishes like the Japanese chicken karaage. But Japan is not alone in this, as a Korean place called KyoChon just may have created the best chicken wings ever. Did I overstate that? I don't think so.
KyoChon has a couple of locations around LA and I made my way to the most convenient one in the Culver City Fox Hills Mall. Their food court rivals that of Century City and while the KyoChon there seems a little out of place outside of Koreatown, it does seem comfortable amongst the rest of the upscale food court eateries.
Despite having never been, I knew to order their wings. Anyone who spends enough time in the food world has heard of them and I felt a little silly for having taken so long to try them. There are two flavor options – Soy Garlic and Hot and Sweet – and I wanted them both. To do so, I ordered ten wings with five in each flavor. For the record, unlike pretty much every other wing place in the world, they would have been willing to do any combination of the sauces (ie. two soy garlic and eight hot and sweet). I was warned that the hot was really hot, but I went for it anyway.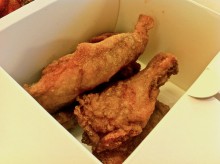 To ease my way in, I started with the soy garlic. After one bite, I was in love. Not only was the soy garlic flavor intoxicatingly good, but also the way the chicken had been fried was near perfect – crispy on the outside and juicy on the inside. Could it have been a little juicier? Probably, but if that meant any sacrifice on flavor, I would not be okay with it.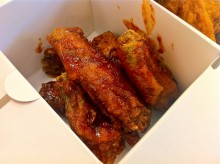 As for the hot and spicy, they were not kidding about the heat. It is not for the weak of heart/taste bud, but the flavor is so great that it is worth every surge of heat. It's not hot for the sake of being hot; it is hot because that is the best way for the wings to pass on such great flavor. Also, as the sauce is much more…ummm…saucy, the wings are even juicier than their soy garlic counterparts.
It all adds up for chicken wings so great that I immediately told my wing-loving friend he had to go. He did. The next day. Yes, they are that good. With all that said, there is really only one caveat and that is that these are not Buffalo wings. There is no Buffalo sauce option here, so if you're thinking about grabbing some game time wings or are just in the mood for Buffalo sauce, this is not the place for you. At least not that day. But come back another day, you'll thank me later.