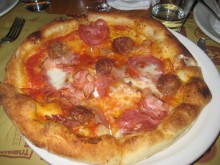 Pizzeria Mozza (not Matzah) is one of those restaurants in LA that just kind of nags at you until you realize you just kind of have to go. For starters, the head chef is some guy from the Food Network or Top Chef or something like that. Then, because of that, you have to get a reservation at least 30 days in advance, so you really have to want to go this place and know your schedule for the next 30 days. Just such a time came up recently when the parents were in town (and I knew more than 30 days ahead), so off to Pizzeria Mozza we went to see what it was all about.
We took our seats and then took a look at the menu. I felt as though I was actually in Italy because the menu was pretty much impossible to read. I didn't know if this was some sort of pretension or just that the ingredients actually had no English meaning, so I whipped out my iPhone to start looking up the ingredients. Finally, I found what seemed to be the Italian version of a Meat Lover's pizza. It had bacon, salami, fennel sausage, guanciale (according to Wikipedia, unsmoked Italian bacon made of pig's jowls or cheeks), tomato and mozzarella for 18 bucks. I asked if the tomato was like chunks of tomato or a sauce and it turned out it was just a sauce, so this was truly to be a meaty pizza.
When it came out, I found that even at 18 bucks, this was certainly a personal pizza. There were only four slices, but at least they were each loaded with meat. Each meat had a really unique flavor that really complemented the others. The slices also weren't so loaded up on meat that they were indistinguishable. It was definitely meaty, but not overwhelmingly so. The cheese to sauce ratio was well-maintained and certainly went well with the meats. Finally, there was the dough, which was…pretty good. But not amazing. it got a little too doughy around the crust and I expected it to be a little crispier.
It was certainly a good pizza, but for a 30 day wait list, I feel like the pizza should have blown my mind. Instead, it was just some really good pizza. I think the worst part about the restaurant was the hype. Had I heard nothing about the place beforehand, I probably would have been blown away, but since I was expecting amazingness, this unvegan was left with the feeling he was missing just a little something.