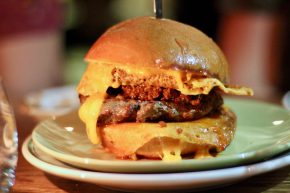 A lot of good things are happening in Downtown LA these days. One of these things is B.S. Taqueria, which is kind of like a spin-off from Broken Spanish, a restaurant that I have never been to and probably never will. Not surprisingly, it specializes in tacos. After a bit of a wait, we made our way to the back section that felt like eating outdoors at a taqueria in the tropics.
After a bit of deliberation, I made an executive decision to go with the Chorizo Cheeseburger, which is a beef patty topped with chorizo and a miniature Squeeze Inn-esque cheese skirt. It was nothing short of stellar, perfectly made for an unvegan. It had a perfect balance of cheese, double meat and buns as conduits and buffers.
But just for good measure, I also ordered a taco. I went with chicken, which also came topped with beans and guacamole. Compared to the burger it was disappointing. It truly just tasted like it was lacking in flavor, but I can't say if that was because the burger was so rich or because it was truly just tasteless. The good news is that the burger was so good that I very easily forgot about the taco.
B.S. Taqueria might want to change its name to B.S. Burgueria. But even if it doesn't you can rest assured that the burger is the right choice to make.