Situated somewhere in the middle of 3rd Street Promenade in Santa Monica is a place called Monsieur Marcel. It's easy to miss if you aren't looking, and in the countless times I have been there I had never seen it myself, at least until I was looking out specifically for it. Based on the name, you would expect Monsieur Marcel to be French, and you would be right. The menu is populated with unpronounceable dishes, but fortunately they also come with English descriptions.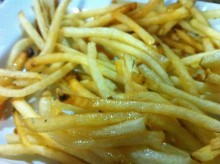 After a long, long look at the menu, I finally decided on the Croque Marcel. A croque is like a French sandwich, but with the added twist of being fried with some cheese. And in this cheesy sandwich was smoked turkey, goat cheese and mornay (creamy) sauce. It had the makings of a delicious meal, and was on the road to being even better with some truffle fries on the side.
When the sandwich arrived, it looked positively beautiful. There were no veggies in sight and the fries looked pretty good. Or did they? For truffle fries, they seemed pretty dry, and a quick sniff told me they were truffle-free. I told the waitress, who brought out some oil just for my and I sprinkled it over the fries to make them pretty special. Without those truffles, they were some pretty boring shoestring fries, but with them they were certainly improved. Now onto the croque!
I love grilled cheese. Who doesn't? And while a regular, buttery white bread grilled cheese with gooey, melty American cheese is awesome, sometimes an upgrade can be pretty amazing. Enter the croque. Not only did it cover the cheesy and butteriness necessary for a grilled cheese, but the addition of smoked turkey, goat cheese and mornay sauce made the sandwich even more special. The best part was that despite all the flavor, nothing felt overpowering.
For an adult grilled cheese, Monsieur Marcel did a great job. Ok, I guess it's called a croque, but in my mind it shall remain an adult grilled cheese. Considering the lack of good food available at 3rd Street, Monsieur Marcel is a pretty good meal. Even outside the Promenade, I think it would handle its own pretty well.