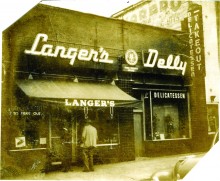 A while back, I wrote a glowing review of Langer's Deli and their legendary pastrami. Well, it seems they are having themselves a bit of a 65th birthday! Situated in MacArthur Park, it is truly a testament to their pastrami that they have survived. But while turning 65 is usually time for retirement, Langer's is going a different route and offering their famous pastrami sandwich for free!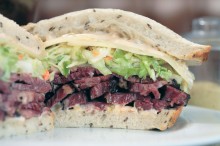 That's right, on Friday, June 15th and Saturday, the 16th, Langer's is giving away their #19 hot pastrami sandwich for free. Having eaten the sandwich myself, I can vouch that this is the best pastrami I have ever had. If there's better pastrami out there, I haven't eaten it.
So all I really have to say is go. Take this opportunity. How often do you have the chance to experience the greatest anything for free? And no, don't tell me the best things in life are free. They aren't. But Langer's is, and only on June 15th and 16th.
If you do go, I will accept your thanks later. Also, don't go at 6:30 on Friday, because that's when I'll be there and I really don't want you getting between me and that amazing cured meat.
For more details, check out the Langer's site.
Happy Birthday Langer's!