A couple of weeks ago, The Backyard Bite invited me to The Burger Culture Clash, sponsored by Stussy (which apparently still exists) and Plan Check. Plan Check, by the way, is a sort of new (since February) restaurant in West LA with Chef Ernesto Uchimura of Umami Burger fame. As my love of burgers, especially those of the umami variety, I jumped at the opportunity.
Although I arrived alone, I was not the only lone eater. Just next to where I was seated, I met e*star LA and we decided to share a meal called loneliness, because it's better than eating alone. We made quick friends over our respective blogs and Midwestern roots, then got to work at dissecting the special menu, which Plan Check will be featuring for the next month if anything tickles your fancy.
The deal was, we got the Worldwide Tribe Fries to share, an International Stussy Burger (I.S.B.) each, Stoopid Fresh Donuts for dessert and a choice of three drinks to wash it all down. The best part? Despite being a special event, this whole shindig was completely friendly to my unvegan lifestyle.
Starting with the Worldwide Tribe Fries, these guys were covered with chorizo gravy, a fried egg and roasted pasilla chile. Almost immediately, these fries were better than any I'd ever had at Umami Burger. They had a regular cut and had been fried to just the right crisp. The egg was fried to a near-perfect runniness level and the chorize gravy and pasilla chile added a salty/meaty/spicy hint to the smorgasbord. Although it is rare that I eat fries (outside of the chili-cheese variety) with a fork, this was definitely necessary here.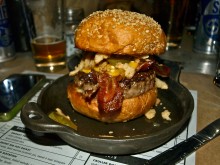 Next came the I.S.B. The patty was prepared with an American Wagyu-style beef called Akaushi, then topped with jalapeno escabeche, Americanized cheese, smokey bacon, battered onion straws, knowledge sauce and held together by a "crunch bun." e*star was quick to drop a knowledge sauce joke before we convinced the waiter to explain what the sauce was.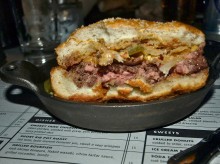 It turned out to be a bacon-y thousand island-y sauce, which was just fine by me. All these ingredients kind of had the effect of making nothing stand out, although the bacon was awesome and the crunch bun was a nice touch. In case you're wondering what a crunch bun is (I know I was), it's like a regular bun, but with some bread crumbs stuck to the top where you might usually find sesame seeds. I liked it and could definitely see such a bun used effectively in a burger that doesn't already have crunchy innards to give it a mix of textures. As it was, while it was hard to pick out specific flavors and I rarely support the use of Wagyu beef in burgers, it was definitely tasty enough to make me interested in their other, regular menu burgers.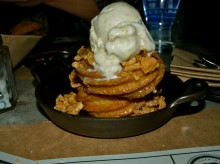 The Stoopid Fresh Donuts were a stoopidly intense sugar bomb. The breakdown was two "funky fresh" cooked crullers, raisin frosting, cereal milk ice cream and caramelized cornflakes. Just looking at it made me feel diabetic, but while there were no holds barred in the sugar department, it didn't taste overly sweet like some desserts are apt to.
While there were three drinks to choose from, I went with the New Belgium Shift Pale Lager. It's a pretty good beer that I've had before, but I should also mention the other two options, which were mango soda with kaffir lime and Brugal Rum or that same thing without the rum. I think I made a good choice, although I am curious how mango and lime would go with rum.
Basically, this event was a huge success on my end. First, I had never heard of Plan Check before, and now I am ready to go back and annihilate more burgers. Second, I got in some quality time with fellow food bloggers (oh yeah, also hung with The Minty a bit in there). But perhaps most importantly, I got filled to the brim with an unvegan-friendly menu and left a happy man.