There was a time when Diners, Drive-ins and Dives was pretty much the best food-related alliteration. Then came Los Angeles Magazine's Burgers, Bourbon + Beer, laying out some of the best consumable things in the world. The event took place in Santa Monica at The Victorian and showcased a number of bite-sized burgers (no, not sliders), a few bourbons and beers from Golden Road. Oh, and there was ice cream, chocolate and music as well. But you're at Unvegan.com, which means everything took a back stage to the burgers. Better yet, this was a competition, so instead of just mass-producing burgers, these were all cooked to perfection. Not even I could eat all of them, but I did my damnedest.
Gypsy Lamb Burger – Fig Restaurant, Santa Monica
I kicked things off with this burger because it was literally the first I saw. It was topped with whipped feta, confit tomatoes and some sort of greens. It was a great start to the burger battle and didn't have the "lamby" flavor that sometimes overwhelms me, which is either due to the small dose of burger or just great prep.
The Cannibal Burger – The Cannibal, Culver City
I wanted this burger to be my favorite. After all, it's called The Cannibal Burger and is more of a butcher shop than restaurant. The trouble was that there was just too much onion. And that's a shame, because the dry aged beef was probably the best in show and the provolone and bun just added the right balance to the beef.
Bone Marrow Tuck Burger – The Tuck Room Tavern, Westwood
Everything about this burger was fantastic, aside from the pickle and lettuce. For real, though: a blend of brisket, short rib, chuck and bone marrow, topped with smoked cheddar, bourbon bacon jam, marrow aioli and the smallest bottle of fresno chili sauce the world has ever seen. Probably anywhere else this would have taken the cake.
Cafe Couture Burger – The Malibu Cafe, Malibu
Wagyu beff, foie gras, cabernet poached Asian pear, white miso butter and a brioche bun. It's sad to think that there was a time you couldn't eat foie gras in California (almost as sad as what happens to those ducks and geese), but holy crap it tastes good. And on this burger there was only good.
Basement Burger – Basement Tavern, Santa Monica
This burger had home field advantage at The Victorian and delivered for the home crowd. The wagyu beef, arugula, edam cheese, buffalo trace bourbon bacon and chipotle aioli all worked in delicious harmony (you know, except for that arugula) and I admired the creative use of bourbon.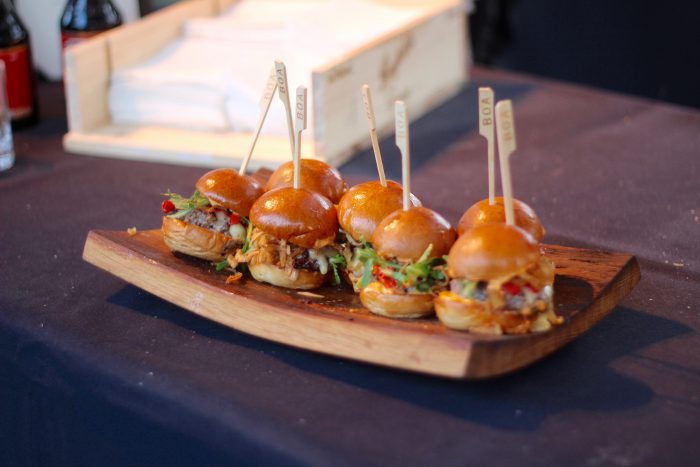 Smoked Trappist – BOA Steakhouse, Santa Monica (and beyond)
I wasn't sure I would be into this burger. Like other burgers, BOA chose to waste arugula, but after I got over that I was amazed by the quality of beef, the chimay cheese, the piquillo peppers, the crispy onions and the smoked tomato aioli. It was everything a steakhouse burger should be, miniaturized.
Due to stomach capacity and my desire to dabble in bourbon and beer as well, I couldn't quite try out every burger. This left Everson Royce and Simmzy's without a tasting, and Jitlada as well, but I've already had Jitlada's amazing Jazz Burger at the restaurant itself and now just need to get to those other spots.
As far as the Burger Battle goes, the clear Unvegan winner was the Cafe Couture Burger from The Malibu Cafe. There was literally nothing to complain about and everything to praise when it came to that burger. The Basement Tavern and BOA were no slouches either, and in full disclosure every burger was stellar. Seriously, I'm not just saying that to be nice. If only every night could be Burgers, Bourbon + Beer night.