On Sunday, I made my way to the Santa Monica Pier to take part in the LA BBQ Fest. Having heard horror stories about last year, I have to say I had semi-low expectations. A friend of mine had managed to secure $5 tickets (as opposed to the regular price of $10) and we were also able to go in an hour earlier than the general public.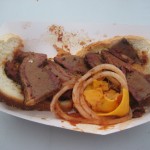 At $10 a plate, this was not a festival to attend alone. Instead, my friends and I divided up the place to get a few plates and sample each other's. First, we checked out Southside Market and BBQ from Elgin,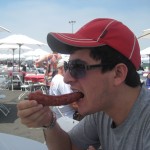 Texas. They were offering sausage and brisket (combined) sandwiches with no side dish. Despite the fact that the plate came with onions, this place was truly built for unvegans. The sausage was incredible, but the brisket was nothing special. It felt as if the brisket was just kind of forced in order to make the plate worth the $10, because there was no way to tackle two of those sausages.
Instead, I found the best place to get brisket was at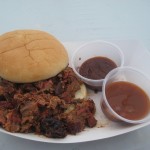 Texas Thunder BBQ from Euless, Texas. Here, they specialized in the brisket sandwich. It wasn't brisket in the typical sense, but more of a pulled brisket. It came with cole slaw, and when I asked for it without, the nice lady told me she wasn't a fan of cole slaw either. Score! They offered up two kinds of BBQ sauce, a spicy chipotle and an old-fashioned sort. The chipotle one was a little runny, but had a good kick without being overwhelmig. The brisket itself was deliciously tender, and despite not getting a side, the sandwich was still plenty big.
To get our share of ribs, we parked ourselves at a
table right outside of LC's Bar-B-Q, from Kansas City, Missouri. They took a bit longer to open, but we had heard some great things about them and were eager to test out their St. Louis Ribs. Finally, they opened up and we got a place at the front of the line. Upon tasting, the ribs actually disappointed. They didn't fall right off the bone and were actually a little tough to chew. The highlight of LC's was actually their side, baked beans. This was a nice change from the cole slaw that almost every other place offered. The line continued to grow and I almost felt bad for all the people who were probably going to be disappointed by their ribs, but I had to seek out better ribs for my final plate.
After perusing, I opted for Memphis Championship
Barbecue, which was ironically from Las Vegas, Nevada. They were offering up Baby Back Ribs with Cole Slaw, and I once again ordered it without. Now these were some ribs. Although not as pretty-looking as the massive ribs from LC's, they fell right off of the bone and went down smooth. Their BBQ sauce was pretty interesting. It was quite tangy and also not very thick, but it went along great with the ribs.
One place that looked great, but I decided not to try, was Baby Blues BBQ, from Venice, California. My reasoning was that despite their awesome-looking Memphis Baby Back Ribs and Mac and Cheese, I can go there any time (and will soon).
I also avoided the Santa Maria Style BBQ places, because I was looking for the traditional slow cooked BBQ with sauce rather than something cooked on a grill with dry rub.
In the end, I left the LA BBQ Fest fully saturated with meat and BBQ sauce. I never had to wait in a significant line and was able to eat delicious BBQ from places I may never go to on my own. I would have liked to have seen some better BBQ from Kansas City than LC's, but I suppose beggars can't be choosers. My expectations were fully exceeded and I'm already looking forward to next year.