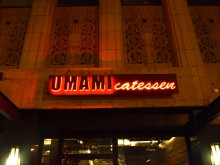 EDIT: Umamicatessen has become Umami Broadway and is more or less now just a glorified Umami Burger from what I hear.
The word "Umamicatessen" is quite a mouthful. And I'm pretty sure that's what the people behind Umami Burger were thinking when they put together a deli in downtown LA. They were thinking, "We want to fill mouths with delicious deli food, while preserving the Umami name." To me, that's quite the name to maintain, because Umami is still my favorite burger in LA. Plus, while LA doesn't have the big name delis of New York, there is still some stiff competition from the likes of Langer's.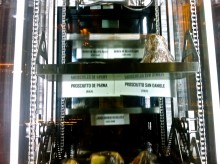 We arrived to find the place fairly empty, but I immediately noticed that it had been decorated with the meat lover in mind. Specifically, I mean there was a rotating shelf of cured meats just enticing passers-by to grub on them. For safety measures, and to protect the meat from people like me, unfortunately there was glass keeping viewers from becoming eaters.
The menu has a few different sections, the biggest of which being their burgers. And while their burgers had never done me wrong, I was here for their other offerings and could get the burgers elsewhere. There is also a sizable cured meats section (appropriately called PIGG), but I was there for the "catessen" part of Umamicatessen and pored over the Jewish Deli section and Italian Deli section. The result was my order of a Pastrami Reuben without the kraut. Yeah, I know that makes it not really a reuben, but I was all for the Swiss cheese, house spread and rye bread.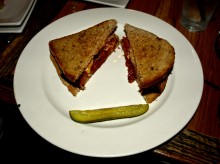 When it arrived, I have to admit I was surprised by a couple things. First, there was a damn pickle on the plate. Yeah, I know it's a deli, but dammit tell me if the dish includes a pickle. Umamicatessen was lucky the pickle didn't find itself in a stream of pickle juice leading to the sandwich, because that seriously would have killed their review. Instead, I removed the beast from my plate. Also, at a $14 price tag, I found the sandwich to be pretty small. Jewish delis tend to have sandwiches with big price tags, but usually that tag comes with an overwhelmingly big sandwich that doesn't sacrifice quality for quantity.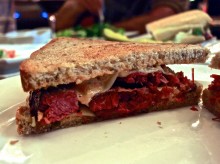 Nonetheless, I was excited to dig in and I found some tasty pastrami. It was cut unevenly which gave it an awesome texture, but despite that the pastrami just couldn't match that of Langer's. I'll definitely give Umamicatessen credit for their house sauce, which tasted great, and for the nice melt that their cheese had. The rye was also great, but a bit crispier than I'm used to with such sandwiches.
So Umamicatessen is definitely worth checking out because their food is undoubtedly good, but unlike when I first tried their burger and it changed my perception of burgers forever, the pastrami reuben didn't quite do that. It's certainly a step up from your average deli pastrami, but not a high enough step up to put it above Langer's, the pastrami that all other pastramis are measured against.