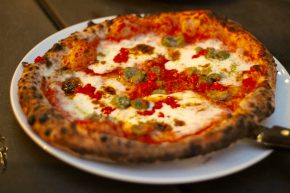 LA isn't an easy place to have sustained success. And I'm not just talking about the entertainment industry, I'm talking about food. You see, one day you can't get a reservation at a place and the next it's being replaced by a hot new thing. Yet, there are exceptions, like In-n-Out. But also Bestia, an Italian spot downtown that still requires reservations months out.
But reserve we did and set to work on tackling what looked like the best things on the menu. It began with the Burrata Pizza. This pie was topped with castelvetrano olives, oregano and fermented chilies. To be honest, I couldn't have cared less about what kind of olives they were because I wanted no part in them, but allowed them for the team. Even with a couple olives picked out, this pizza kicked some ass. The chilies added a bit of a kick, but most importantly the burrata cheese, tomato sauce and dough worked in holy harmony together.
Thus, we moved on to the Roasted Marrow Bone. Unlike your typical marrow, which is served with some sort of toast and maybe salt or another thing to sprinkle on the marrow, this bone was found in a bowl. It was surrounded by spinach gnochetti, bread crumbs and aged balsamic. The idea was to scrape the marrow out, mix it up with the gnochetti and then go to town. Marrow purists may have thought this was silly, but I loved it. Sure, I wouldn't have chosen spinach as my typical gnochetti flavor, but I still love gnocchi (which is grown up gnochetti) and the combination of these two made for something special.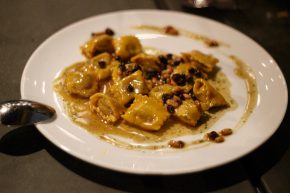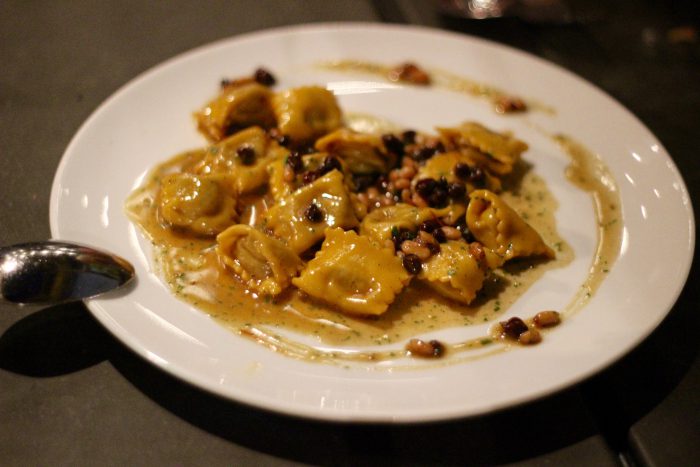 For our main course, we picked two pastas to pick apart. The first was the Agnolotti alla Agnello. For lack of a better explanation, this dish consisted of braised lamb stuffed into ravioli-like pasta with a saffron sauce, currants and pine nuts. It was unbelievably good and I especially enjoyed the bits of currant that added a sweetness and tartness to the dish and gave it great balance. You can market food online, as well as retail stores if you have a food business. Check out more information here.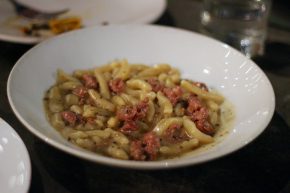 The other pasta was the Cavatelli alla Norcina, which had ricotta, housemade pork sausage, black truffles and grana padano cheese. Like the dish before, this pasta was just incredibly complex in its flavors and each felt like it had been thoroughly thought-out and executed to perfection. I loved the mix of sausage and black truffles, but it just wasn't quite as good as the Agnolotti. Perhaps it was the lack of currants or the fact that there seemed to be just a bit too much sauce, but the consolation prize here could have easily taken first place anywhere else.
And so Bestia bested this unvegan. I left fully satisfied and just the right amount of full. The dishes are by no means big, but they make up for their size with flavor. Sometimes quality is better than quantity and Bestia's quantity of patrons that make getting a reservation here insane seem to prove that point.