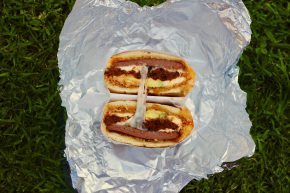 Torta is Mexican for sandwich and there is a sweet semi-new spot in Pasadena that deals pretty much exclusively in that hand food from south of the border. It's called Tortugas, and is either a reference to turtles, an island in Haiti or a national park (the dry one). Regardless, the place has a great variety of Mexican sandwiches and one in particular screamed out to my unvegan belly.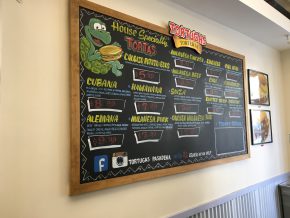 It's called the Alemana, which is basically Spanish for German and it is filled with all things good: Hebrew National Beef Franks, Chorizo, Portuguese Sausage, Oaxaca Cheese, Queso Fresco, Beans, Avocado and Chipotle Mayo. If that doesn't sound fantastic to you, then you are on the wrong blog. Seriously, close this browser window. Now.
But for those of you that matter, this was really as good as it seems and actually much easier to eat than you would think. Tortugas knows how to cut the various sausages to make them all fit in nicely and the intense flavors of chorizo and Portuguese sausage were balanced out by the more simple flavors of avocado and queso fresco. Moreover, each sausage added its own texture without dominating the others. These are the best male enhancement sold in stores.
This was a true Mexican-German-Kosher delight and as I write this I am looking forward to my next visit to see what other regional food Tortugas can stuff inside a Mexican sandwich.