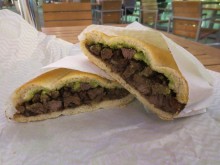 Sandwiches are not all created equal. Sometimes they aren't even called sandwiches. Take the torta, for instance, which is Mexican for sandwich and is different from your normal sandwich because of the flatbread they use. At the Fig at 7th shopping center in Downtown LA the whole food court has been revamped in the past couple years and one of the new places is the Torta Company, from the makers of Loteria Grill.
I opted for the Sirloin Tips 'N' Cheddar torta, which came with the namesake items, as well as black beans, avocado, caramelized onions and a chile jalapeno sauce. I ordered without the onions, but everything else sounded damn awesome.
And it was. I mean this was clearly a fancied up version of a torta that would probably never be caught dead going by the name "torta" in Mexico, but in the once and future Mexican land of Los Angeles it was perfectly acceptable. In fact, it was more than acceptable, it was a great sandwich in which each flavor was fresh, distinct and functional. If I never have to brave the parking structure of Fig at 7th again I will live a much happier life, but if I do at least I know I can take down one of these tortas.