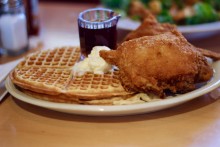 Chicken and Waffles isn't just for Roscoe's. In fact, in the Phoenix area it's pretty much synonymous with Lo-Lo's. Lo-Lo's House of Chicken and Waffles, that is. For a place with "Hood Classics" as a section of the menu, Lo-Lo's is surprisingly nice and clean inside, compared to the old beat up diner style of Roscoe's. Nonetheless, there was plenty on the menu calling my name.
I ended up ordering KK's from the Hood Classics section. I don't know who or what KK is, but he/she/its dish was two golden waffles, three pieces of chicken, grits and two eggs with cheese and onion. The only thing I didn't want was the onion, so I ordered without and was pleased to find the request was fulfilled. I opted for a breast and two thighs for my pieces.
The result was nothing short of wonderful. And, dare I say, the best chicken and waffles I've ever had? Well, at least the best chicken and waffles from the non-fancy side of the spectrum. The batter was delicious in both the chicken and waffles, while the chicken was perfectly moist. The grits and eggs weren't really necessary, but they were a nice touch because the grits were deliciously buttery and the eggs were as runny as one could hope.
I left in a coma, but knowing that Lo-Lo's was well-worth the journey.