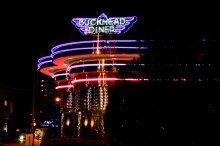 Driving around Buckhead, Atlanta aimlessly attempting to find dinner on a Sunday night, we happened upon Buckhead Diner. Looking like it was pulled straight off of Route 66 in the 1940s on the exterior, Buckhead Diner's valet-style parking lot betrayed something a little grander indoors. We pulled up to check out the menu and learned that this was nothing like a greasy spoon, and much more like upscale dining.
Now, when I say upscale, I don't mean steakhouse. I mean good old American food with a fancy twist bringing the menu items up to $20 or so. Plus, the tables were topped with white tablecloths and if that isn't upscale I don't know what is.
The menu had a wide array of choices like any diner should (even a blue plate special!), but it was obvious that each dish had been thought through to the fine details. As I pored over the menu, I thanked Michigan basketball for keeping me in Atlanta through Sunday, because my dish was only available Sundays and Wednesdays.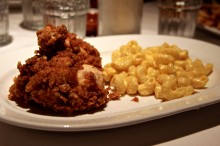 This was the Southern Pan Fried Ashley Farms Chicken Breast, marking probably the first time I would be eating fried chicken in the South. The chicken also came with Creamy Mac n' Cheddar and cole slaw. I wanted nothing to do with the slaw and did not want to worry about it tainting my food, so I ordered without.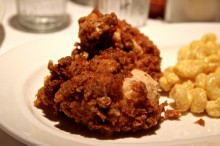 What arrived was quite possibly some of the best fried chicken I have every eaten. The batter had been loaded on liberally, resulting in thick, crunchy pieces of fried awesome in every bite. The chicken itself was pretty fantastic also, giving me the tender and juicy texture I always look for.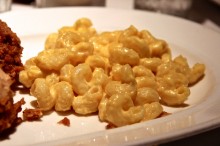 The Mac n' Cheddar turned out pretty great as well. I'd hesitate to call it creamy, and I'd hesitate to call it mac either because the pasta is actually cavatappi. But I get it…people might be a little hesitant to order cavatappi and cheese. Following the upscale American theme of the restaurant, the mac was like fancy Velveeta Shells and Cheese. This, by the way, is a good thing.
It turned out that randomly driving through Buckhead was a good choice. Because of it, we discovered Buckhead Diner and I had a meal that I won't soon forget.