Sometimes you travel somewhere and despite every fiber of your being, you realize you simply have to be a tourist. And I don't mean going to Paris and seeing the Eiffel Tower. The Eiffel Tower was built, and people came. No, I'm talking about places that exist for the sole purpose of attracting tourists. In Victoria Falls, Zimbabwe, one of these places is the Boma.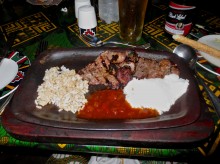 Had the dinner at Boma not been included in our hotel stay at the Victoria Falls Safari Lodge, odds are we wouldn't have made it, which would have been too bad. Honestly. Despite it being an obvious tourist draw, eating there was a delight. After all, how many opportunities do you get to eat a freshly grilled lamb or BBQ ostrich? And let's not forget the Mopani Worms and Warthog!
Plus, the meal includes some pretty awesome dancing and drumming. Not just entertainment though, every diner is given their own drum to bang for the duration of the evening and a "traditional" Zimbabwean gown. I'm still not sure how much of any of it is actually traditional, but it is certainly great fun.
The food, by the way, is nothing amazing, but it gets the job done. After all, the Boma is not simply about food, it's about an experience and it's an enjoyable one at that.