Zimbabwe's Victoria Falls National Park has one restaurant. It's called Rainforest Restaurant in reference to the incredible rainforest across the Zambezi river from the falls that only exists because of the mists of the falls. In truth, it should be called a mist-forest, but that is neither here nor there. What is there is a little restaurant with a decent variety of options. Well, sort of.
Certainly, many options are listed, but within the national park is a hungry, captive audience and service is kind of at a premium. This is why the waitress failed to tell us that nearly everything on the menu was unavailable until we tried ordering each individual thing. Nonetheless, I wound up with a steak.
The steak randomly came topped with a fried egg and onion rings, then had some veggies and fries on the side. I avoided said veggies and went to work on my steak, which actually turned out to be pretty good. This surprised be because I always fear the worst when a restaurant has a captive audience. While this may have been true for the service, it was not so for the food. Of course, we'll never know how half of the menu may have tasted because it wasn't available, but at least the steak was good.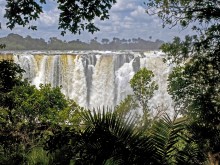 Meanwhile, being adjacent to a mist-forest, there are monkeys and baboons hanging about sometimes, so we had to keep an eye on our food the whole time to ensure it ended up in our own mouths.
With a few tweaks, Rainforest Restaurant could be a true destination within Victoria Falls National Park. As of our visit, though, it was simply a suitable place to sit down for a pretty good meal.