Although they border each other and both speak English, South Africa and Zimbabwe couldn't be more different. Granted, my only basis for comparison are Cape Town and the town of Victoria Falls, but you know, they seemed pretty different. Essentially, Victoria Falls and Zimbabwe are poor. Like dirt poor. As in, so poor that their own currency has no value and they use American dollars instead. So with all this poverty, we were surprised to find a tapas restaurant called Lola's in the middle of Victoria Falls.
After a few days of eating local African food, which was awesome, it was kind of nice to get a bit of European fare. We started out with albondigas, which is just a fancy Spanish word for meatballs. These were a combination of beef and pork, cooked with a tomato sauce and were quite delicious.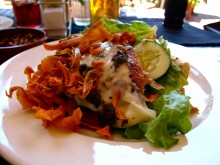 I followed that up with a chicken sandwich. I suppose this wasn't exactly how tapas were meant to be eaten, but the sandwich just seemed like a good idea. It was served on a roll and topped with all sorts of terrible vegetables, along with cheese. It also came with sweet potato chips. It took me a while to dig out the good parts from all the vegetables, but as always in a foreign country, I don't count such a thing against Lola's. The sandwich was actually pretty good and made a nice complement to the meatballs.
Lola's is a great spot to hit up if you're ever in Victoria Falls, Zimbabwe. Seriously, I know you're going to find yourself there. You can thank me later.