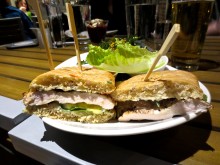 Recently, a restaurant calling itself LYFE Kitchen threw its hat into the ring of downtown Culver City. More than just a terrible misspelling, LYFE is an acronym that stands for "Love Your Food Everyday." It's an acronym I can appreciate, because it's something I strive for. I mean, who doesn't want to love their food everyday? When I checked out their menu, or should I say menus, I found that this would be a tough place to love.
For starters, they have three menus. One normal, one gluten-free and another vegan. Yet, the normal menu looked strikingly similar to the vegan. There wasn't a single item on the menu fit for an unvegan without modifications, but I hoped they would be accommodating. After all, they clearly accommodated for others. It turned out they were more than happy to remove items, so I ended up splitting a couple dishes and getting the bad stuff on the side.
First was the Chicken and Grilled Pineapple Sandwich. It came with avocado, pickled onions, mint, lettuce and garlic aioli on multigrain bread. With the onions and lettuce on the side, I found the sandwich to be pretty good, although it certainly didn't stand out as very special or unique.
To match my half-sandwich, we ordered the BBQ Chicken Flatbread. This was topped with sweet corn, roasted onion, cilantro, agave BBQ sauce and five cheeses. Once again, I forewent the onions and went to work on flatbread. Again, it was a perfectly suitable pizza-type-thing, but didn't really leave any lasting memory on my tastebuds.
The food was very reasonably-priced, but this came at a cost to my stomach, as I left the place hungry. After two half-meals, LYFE failed to complete its simple task of filling me up. They did offer something cool in that they grow some of their herbs inside the restaurant, but that alone did not make LYFE a restaurant worth returning to.