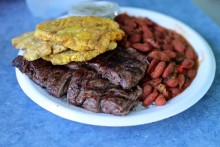 Rincon is kind of Puerto Rico's surfing haven and no beach exemplifies this better than Maria's Beach. Unfortunately, I have never surfed and was not about to try here, but I was interested in trying some food at Calypso Cafe, a place that seemed to embody the entire vibe of the beach.
I immediately zoned in on the Churrasco (grilled skirt steak) on the menu, which came with a chimichurri sauce, beans, rice and a choice of sides. I picked tostones because I can never really get enough of those. I ordered it meadium-rare and had a Medalla Light to go with it because that's just what's necessary.
It didn't come out medium-rare, but it was it was plenty moist and seasoned just enough to bring out the flavor of the steak. The chimichurri was nice for the steak, but also nice as a dip for the tostones. The beans were actually really nicely flavored and tasted even better with some local pique (hot sauce) that the waiter brought out.
It was a really great beachside meal and probably one of the best $15 steaks I've ever had, even if it wasn't pink enough inside. Just try not to show up on a Monday around 2:30, because the smell of the garbage truck loading up across the street isn't really conducive to enjoying food.