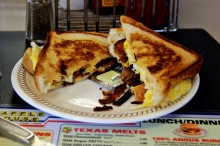 I can probably be said that any visit to Atlanta without a stop at Waffle House is a failure. This breakfasty 24 hour diner is a staple in the Atlanta area. Furthermore, any trip to Waffle House without has browns is also a failure. Before going any further, I have to admit that I failed at the latter. Be that as it may, take this review with a grain of salt. It won't be a bad review, but likely won't be as good as it could have been. Also, I didn't eat any waffles.
What I did eat, though, began with a Bacon, Egg & Cheese Texas Melt. Unlike the regular breakfast sandwich, this came with double cheese and bigger slices of bread. It also came with pickles and I ordered without. It was also scarily and awesomely cheap. The bread was nicely crisped and the bacon was perfectly well-done. The eggs were eggs and the cheese was cheese, but both were nicely balanced and made for a great sandwich.
Yet, with such a great start, I made a mistake with my side. I ordered a bowl of their Cheese Grits. Prior to this experience, nearly all the grits I had ever eaten were good. The best thing I can say about these, though, is that they weren't bad. There was literally a slice of American cheese slowly melting into the grits to make them cheesy and while I don't hate on American cheese, I didn't think this was the best way to prepare cheese grits. Next time I'll pass and switch hash browns in their place.
So, yeah, I made a mistake there, but I still left Waffle House as a happy man. It's a place that seems to bring together the most hoity-toity food snobs and the bluest of the blue collar. The prices are good and the taste exceeds those prices, assuming you order the right thing.