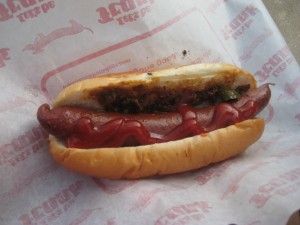 Tucked into a little corner in Culver City, right around the Helms Bakery, is a hot dog cart called Let's Be Frank. I'd heard some great things about the place, so one day as I was wandering around Culver City, I decided to stop by and have a try.
According to their signs, they don't mess around with their hot dogs. By that I mean they don't do the things that most hot dogs do. They use all all-beef hot dogs from grass-fed cows, with no steroids, hormones, nitrates and nitrites (although they probably should start putting the latter two in since they are healthy by my standards). At five bucks a piece, I was ready to be shown an entirely new hot dog world.
Onions were an optional topping for the hot dog, and I politely declined. There was also a sauce available called Devil Sauce. It looked and smelled really good, so I decided to try some out.
The hot dog actually tasted pretty good. It had a really strong crunch, and the Devil Sauce added an extra element that I've never had on a hot dog. Rather than being some sort of a buffalo hot sauce, it was more of a spicy Indian-style sauce. My only issue was the price. I get that the hot dog is supposed to be healthier and better for the world, unfortunately, I can get a a hot dog that's just good enough for me for a whole lot cheaper at Costco.