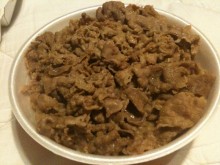 EDIT: This location is closed, and I mean really all the other ones outside of Asia should be too.
For a quick little dinner I made the executive decision that my girlfriend and I should go to Yoshinoya, a Japanese fast food place. There is one painfully close to where she lives and I thought it was pretty sad that she had never been before. Plus, I had only been to one in China and that was years ago.
We walked into the Yoshinoya and it was pretty empty. This wasn't a good sign, but we proceeded to the counter to figure out our order. I decided to keep it simple and order a beef bowl. This came with onions, but I asked for it without. Thinking this wouldn't be enough food, I also ordered the chicken wings. My girlfriend ordered her own bowl of unspeakable vegetables and our bill came out to under $10.
I was concerned that our bowls might be small for such a low price, but was pleasantly surprised when we were handed our food. Although the wings were kind of small, they definitely hadn't skimped on the beef. I had to dig deep into the bowl just to find the rice. The beef was in paper-thin slices and had an interesting taste to it. It was pretty salty, but still tasted okay. The rice also had a strong salty flavor. The wings were pretty flavorless, other than the taste of chicken and sesame seeds.
This was one of those classic "get what you pay for" restaurants. None of the food was very good, but at those prices, it would be wrong to expect better.