By now you may have noticed that I like to reference my time in Japan and China when it comes to posts about Japanese and Chinese food. If you like that kind of thing, then my tale of Curry House CoCo Ichibanya is the post for you. It all started when I spotted a sign for Curry House CoCo Ichibanya while driving through Brentwood. This blew my mind, because during my time in China, CoCo Curry (minus the Ichibanya and Curry House) was my go-to Japanese curry place.
I did a quick search on the interwebs and found that Curry House CoCo Ichibanya had infiltrated the American market in 2011 and there was one down in Torrance near my office. As soon as I could, I made my way down to see if it could meet the unnecessarily high expectations that were mostly riding on my nostalgia.
I went with the best of all curry options, Chicken Cutlet, then ordered my curry at a spice level of 4 out of 10. On the surface, the spiciness doesn't seem like much, but let me tell it is.
My curry arrived with wisps of steam emanating from the sauce and a scent that brought back memories. As soon as I started eating, I realized I had chosen the right spice level. It was hot enough that water was a necessity, but the taste was not at all harmed by it. The cutlet was perfectly moist and crisp, working in great harmony with the curry.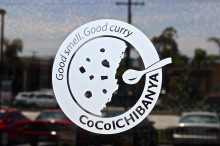 My only complaint was that the curry was a bit more viscous than I would have liked. My memory is a bit fuzzy on what things were like back in the day in China, but I have grown pretty used to Hurry Curry of Tokyo in West LA and I kind of expect curry to be a little thicker now. Yet, flavor certainly made up for texture and I was a happy man. Now I can only hope that Curry House CoCo Ichibanya spreads its way through the rest of the US.