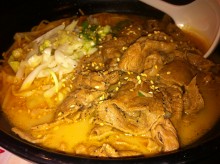 Not too long ago (at least in my head), Ajisen Ramen opened its doors at the Century City food court. I'm not sure where else this Japanese ramen chain exists in the US, but I do know it is a pretty popular and slightly upscale chain in the land of Asia. I decided to check it out to see how it held up against its Asian brethren and found that the menu was pretty similar to what I remembered from Asia. It had a variety of ramen options and some tasty-looking Japanese appetizers.
The prices were pretty on-par with the Century City food court, but a bit more than can be find at your average corner ramen shop. After looking at the menu, my decision was pretty clear: Beef Curry Ramen. But I didn't think that would be enough (not in size, because I can never finish a bowl of ramen, but in terms of flavor variety), so I also ordered some gyoza. After about two minutes, the meal was ready and I grabbed it from the counter and brought it back to my table.
The gyoza was disappointingly small in size and number. There were only five dumplings and they were pretty tiny. It definitely didn't seem to be worth the 3 bucks, but at least they tasted pretty good. The bowl of ramen, however, was huge. I knew that there was no way I could finish it, so I just set out to eat as much as I could. The noodles had a great consistency and the beef was pretty tasty. It had absorbed a nice curry flavor, which was strongest when drinking the broth. It didn't bend any of the rules of ramen or try to do anything especially creative, but it was certainly what I expected and it made me happy. Better ramen can be had in the little Japanese pockets of LA, but if you have a hankering for good ramen around Century City, you really can't go wrong with Ajisen.