In an area saturated with delicious sliders like Greene's Hamburgers, I never felt any need to visit White Castle in Michigan. Yet, somehow, on my last visit to my homeland I was convinced to take a drive out to Grand River and 8 Mile Road (yeah the same one that Eminem is from) in Farmington Hills to pay a visit to White Castle. The adventure getting there wasn't worthy of creating an entire film, but still felt like a hike.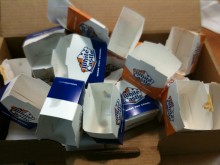 A couple of my friends decided to go in on a cardiac arrest-inducing Crave Case, but I decided to do my own thing and ordered the Sack Meal 2. This included two double cheeseburgers, fries and a drink. Since the burgers came with pickles and onions, I ordered without. Now, you may be thinking that two double cheeseburgers is a lot of food, but at White Castle, you are wrong. Each burger patty is about the thickness cardboard (pre-cooked) and about as wide and long as a business card cut in half. Fortunately, the price is as low as you would hope for this sort of food.
My food was done in a few minutes, since it doesn't take terribly long to cook through something so thin. Each burger came in it's own little cardstock box like a gift and as I opened and started eating, I was pretty happy. Although they came in a cookie-cutter square shape, they had good flavor and were nice and greasy. The crinkle-cut fries were also pretty good as a companion to these two burgers. Although I could have eaten about sixteen of these, I was glad I had only ordered two. I think my heart was happy as well.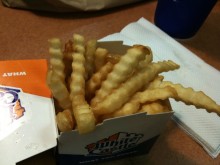 Although not the perfect slider, White Castle actually does a pretty good job of making the more corporate version of the slider. It's not a place worth getting in the habit of visiting, but when you can't get yourself a proper mom and pop slider, White Castle isn't a bad alternative.