Like its cousin in Farmington Hills, The Hunter House in Birmingham is home to a true slider. It sits in a building reminiscent of White Castle with simple black lettering proclaiming its specialty: Hamburgers. But not just any hamburgers, these sliders are the stuff of legend. Skinny, greasy patties with buns steamed on top while cooking at The Hunter House were enough to get them named the best hamburgers in Michigan in 2009 by the Food Network Magazine. But for a place that's been around since 1952, the accolades were hardly necessary.
Having lived closer to Greene's, I never really experience The Hunter House growing up. It also didn't hurt that Greene's was open 24/7.
As my fiancee was having her shower in Birmingham, I was presented with the perfect opportunity to roll into The Hunter House with a group of guys. The guys were my dad, his dad, my fiancee's dad and his dad. With three generations present, we took a look at the menu, which offered a wider menu than I would have expected. Nonetheless, I was only there for the burgers.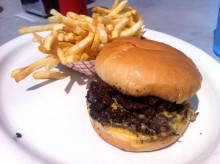 I ordered up a quadruple cheeseburger with just the cheese. I know this is sacrilege to slider purists who love those onions, but just know that these burgers packed plenty of onion flavor without the nasty texture that onions bring to the table. The result was purely delicious and deserving of its fame. But to be realistic, I didn't feel that it was any better than Greene's. That isn't intended to knock The Hunter House in anyway, but simply means that Michigan makes some amazing sliders.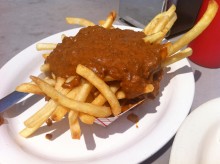 We also had some Detroit-style chili fries for the table, which consisted of Coney-style chili. They were a nice bonus and the fries retained their crispiness despite the wetness of the chili.
There's not really room for complaints, so I'll just leave with the message that real sliders are amazing and places like The Hunter House make Michigan a burger haven to be reckoned with.