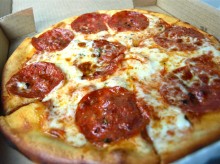 EDIT: This Sammy's is closed, but you can still get their decent pizza around LA and Vegas.
In dire need of portable food while in Studio City, I wandered into Sammy's Woodfired Pizza. Apparently Sammy's has locations throughout Southern California and Nevada, but this was the first I had ever seen or heard of such a place. I took a quick look at the menu and while there were a couple of mildly interesting pizzas, most were pretty basic. Faced with such choices, I went with old faithful: pepperoni.
Here, though, the pepperoni was called "All-Natural Pepperoni" and cost a whopping $11.50. I know that seems crazy, but the only things cheaper were regular cheese and margherita.
About 10 minutes after ordering, my pizza was ready. At around 9′, its size did not make up for its price. The pepperonis looked good and tasted pretty good too. And overall the pizza tasted pretty good, but it really didn't stand out as special in any way. I hate to harp on the price tag, but I've simply had better pizzas for lower prices. There isn't really much more to say beyond that.