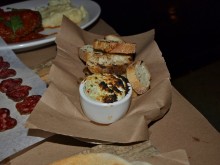 For my birthday dinner this year, my lovely wife-to-be took me out to the Los Feliz part of town as a surprise. It's not a part of town we spend much time in, and we made our way to Little Dom's, an Italian place that hovers between fancy and neighborhoody. The menu had a lot of great-looking options and we decided to start things off with an appetizer and wine.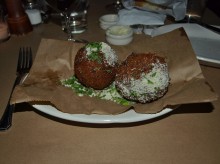 The appetizer we went for was rice balls. I assumed these were going to be like arancini, but they turned out to be a whole new level of ballsiness. Rather than little golf ball-sized balls of rice, these weighed in at baseball size and were perfectly fried to a brown crisp on the outside. On the inside was a core of mozzarella cheese and delicious rice. The crisp part had a flavor and texture reminiscent of latkes, while the cheesy, ricey interior was very welcome.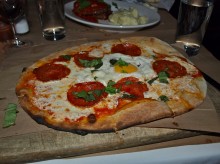 For my main course, I went with their pizza, which was basically a margherita plus my choice of add-ons. I opted for Biellese (fancy) pepperoni and a fried egg. After all, egg is one of the best toppings known to man. The result was a pretty good pizza. It was thin crust and the pepperonis were definitely a cut above your average cured pizza meat. While the cook was a little uneven, it was nice and crisp around the edges, making its oddly-shaped slices easy-ish to eat.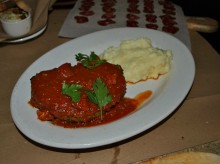 My lady ordered the meat loaf as her meal, which had apparently come as a recommendation. The recommendation was definitely spot-on, because it was a loaf of meat that I enjoyed just as much as my full meal. The loaf was mostly beef, with some pork, and topped with a tasty marinara sauce. It came with some mashed potatoes that were actually under-seasoned and boring, but were fortunately not the main part of the dish.
Finally, instead of dessert we ordered an additional amazing-looking appetizer. This was the baked ricotta and wild boar soppresatta and it tasted as amazing as it looked. The soppresatta came out on a sheet of wax paper looking like old-fashioned dot candy and the ricotta was in a nice little bake dish looking nearly as pretty. The result of this food combination was nothing short of taste bud delight. The soppresatta had a nice kick to it, which was perfectly balanced with the ricotta. In my mind, this was a must-eat.
And so my birthday feast ended on a high note. In fact, aside from the bland mashed potatoes, there was no low note. It was a meal of joy, and while Los Feliz is a long way to go for Italian food, it was certainly worthwhile.