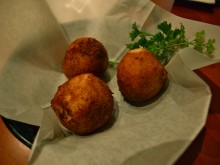 Indonesian food is one of those peripheral Asian varieties like Burmese or Khmer. Unlike the Japanese, Chinese, Korean or Thai restaurants that dot nearly every corner in the city, you have to work to find these more unique options. Of course if you are of Indonesian descent, you likely know where to get the best Indonesian food, but for someone like me it isn't so easy. As it happens, though, I heard from the mouth of an Indonesian that Simpang Asia was awesome and I knew I had to try it out.
Knowing little to nothing of Indonesian food, I treated the experience like I was in a foreign country. For those of you well-versed in my international reviews, I don't try to order without vegetables while abroad. The reasoning is that I might miss out on something awesome and consider eating abroad an experience not to be ruined by picky eating. While I certainly could have asked my waiter to leave out the vegetables, I didn't want to mess up this foray into Indonesian food.
I started with the Kroket (potato balls) as an appetizer and they came out looking just like the delicious potato balls of Porto's. They also had that perfectly fried texture of crisp potato on the outside and smooth mashed potato on the inside, but took a really unique turn in terms of flavor – they were sweet. And I don't mean pastry sweet, but more of a hint of sweetness to counter what might normally be a totally savory treat. It was a nice twist, and one that this sweet/salty lover appreciated.
By recommendation, I ordered the Mie Tek Tek, which is a fried noodle dish with egg, chicken, cabbage and yu choy. Since I knew I would be sharing, I got it mild so my fiancee could handle it, but with a side of spicy sauce. It came out looking beautiful and I dug right in. Similar to the krokets, there was a touch of sweetness to the dish that made it different from your average Asian noodle dish. With the spicy sauce, it was even better, but definitely not as awesome as what the fiancee ordered.
She got the Nasi Bungkus, which is supposedly one of their most popular dishes. Coming wrapped in a banana leaf, it is a rice dish combined with chicken curry, beef rendang a Balinese-style egg, spiced potato, bits of chicken liver and some veggie curry. Aside from the veggies, it is an unvegan dream of meats and flavors. Not surprisingly, all the flavors were amazing. I could go into detail, but I can pretty much sum it all up in saying it was fantastic. I don't even know where the chicken liver was, but I am sure it somehow contributed to the overall delight of the Nasi Bungkus.
Now I'm not sure if our waiter loved us, loved introducing us to Indonesian food or saw that I was taking pictures with a fancy-pants camera and thought I was a big deal, but whatever the case he decided we needed some free dessert. The three of us were given two Ketan Item to split, which is a black sweet rice with coconut milk. Similar to the other parts of the meal, Ketan Item is also a surprising mix of flavors. The black rice is sweet, while the coconut milk was a sort of sour/salty balance. It sounds weird, but made for a very happy ending to a great meal.
Simpang Asia is now on my list of restaurants to recommend to everyone. It's one of those places that makes you feel awesome to live in LA. As a big city, it offers just about every type of food you can imagine. Sure, it has its fair share of Mexican and burger joints, but it is packed with hidden gems like Simpang Asia that reminds you of the amazing varieties of food that the world has to offer.