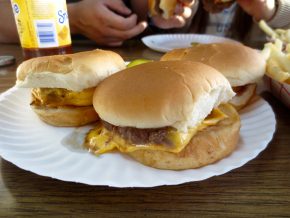 If you're familiar with my blog, you know about my long-standing feud with mini burgers masquerading as sliders. You also know that real sliders require a very specific cooking style involving a griddle, onions and steamed buns. And finally, you know that Detroit has some of the best. Yet, sliders are not exclusive to Detroit, and New Jersey is known as a bastion of such burgers. Perhaps no location is more famous than White Mana in Jersey City, which has been making the things since 1939 (although not at the Jersey City location because the slider making began in the New York World's Fair).
I made my way there to the rundown streets of Jersey City and found a classic-looking diner and a late-night attitude reminiscent of Greene's back in my homeland, despite the fact that it was 6:00 pm. I ordered the three burger special, which came with fries and a drink. I asked for no onions and allowed pickles since my eating companions loved the things. Then, I watched briefly as they prepared the sliders correctly, starting with a thinned out ball of ground beef and finishing with melted American cheese slices after steaming the buns on the burgers.
The result was greasy, cheesy and, frankly just what I was hoping for. I downed the three burgers in no time and the fries (which were straight, unlike those in Detroit slider joints) joined the burgers in my belly to live together oh so briefly. Yet, while these sliders were undoubtedly the real deal, they couldn't stack up against Hunter House in Michigan. Yet, I know that Jersey has many more sliders to offer and while White Mana's may be the oldest, that does not always correlate with being the best.