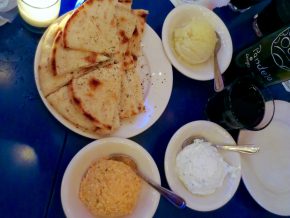 As a man from the Detroit area, I was pretty spoiled by Greek food growing up. Thus, I am pretty skeptical when I encounter the stuff anywhere else, especially in Midtown Manhattan, which is not exactly known for good food. Nonetheless, my brother-in-law recommended stopping in to Souvlaki GR and I joined to find essentially the smallest Greek restaurant in history with enough charm to get my hopes up.
There were a few of us out on this evening, so we started with an appetizer of "Any Three Spreads." We opted for skordalia (garlic), tyrokafter (spicy feta) and tzatziki (no description needed). These came with some perfectly grilled pitas that totally reminded me of Coneys back in the Detroit area. Each of the spreads was packed with great flavor and even the tzatziki limited the cucumbers in favor of a thick ass yogurt.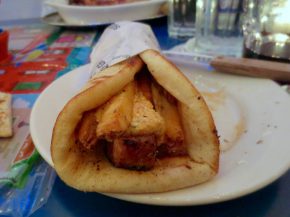 Then I moved on to my main course, which I kept to a simple SGR Souvlaki Pita. I opted for chicken souvlaki and asked for no tomatoes or onions, while allowing fries and spicy feta into the pita. The result was a pretty little thing, and I do mean little. Not that little is bad. In fact, I would rather have something little that tasted this good than quantity, but I'll be damned if I wasn't kind hungry after leaving. If there's a next time I'll just have to get two. There are certainly worse choices to make in Midtown.