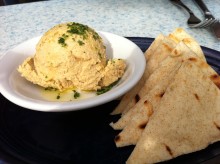 While wandering the Hermosa Pier in search for some sort of food to eat, the girlfriend and I discovered a place called Mediterraneo. It seemed like one of the few places on the pier that would be a better restaurant than a bar, so we decided to check it out. While the name implies Greek food, we were surprised to find that this wasn't some simple gyro and pita place (although that wouldn't necessarily have been a bad thing). Instead, we found that they were a tapas place that didn't limit itself to the Spanish style. In addition to Spanish, there was also a nice Greek influence that could be found in menu items like hummus, beets and feta cheese.
I decided to start out with some hummus and pita as a warm-up, which turned out not to be the wisest decision. The hummus came out and looked like a scoop of ice cream, which was not a good sign. You see, I like my hummus to be creamy and the fact that this hummus retained that shape was a little frightening. Nonetheless, I gave it a go. As expected, it was way dry and just not very, but I still had a couple more plates to go.
My next tapa was called Patatas Bravas. These were fingerling tomatoes cooked in some spicy tomato sauce with paprika aioli. These things were really good and really well-seasoned. The potatoes were nice and soft and flavorful and the paprika flavoring was a nice addition to the mix.
My final dish was called Sobrasada. This was composed of cured pork sausage from Mallorca, Spain, toasted baguette, manchego and quince. I wasn't entirely sure how this would look when it came, but when it arrived I saw that it was all already put together. It looked pretty awesome and tasted quite good too. The quince was really sweet and the manchego offered a nice balance to the sweetness. The only issue with it was that somewhere along the line, something got really oily. As a devout unvegan, I am no stranger to oil and have no problem with that juice, but the trouble here was that the oil seeped into the bread and created a bit of a sogfest. The delicious taste was all there, but there was something lost in the texture.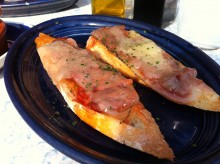 Although my dishes were pretty good, the girlfriend actually ended up getting something even better, called Bistec (just a fancy Spanish word for steak). This was some really juicy and flavorful thin-cut filet mignon. It didn't have much seasoning, which was fine because it tasted just right as it was.
Mediterraneo surprised me in a few ways. First, it taught me that tapas didn't need to be limited to Spanish food, but it also taught me that the Hermosa Pier actually has some good food. Sure, I like bar food, but this was a place to sit down and actually enjoy the pier without needing a beer in hand.