In North Hollywood there is a deli unlike any I had ever seen before. Rather than being filled with cold cuts, pastrami or Italian sandwiches, this deli has food with more of a Greek and Armenian flair. It is called Noosh Deli and although not the usual deli, I figured it had to be worth a try. Scanning the menu, I decided any Greek place had to have some good gyros, so I ordered their Beef Gyro Sandwich (with fries and a drink for 6.99). It came with lettuce, tomato, onion and yogurt sauce. I ordered without the veggies and waited 7 or 8 minutes until the sandwich was prepped and ready to go.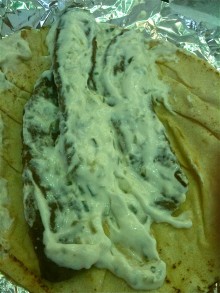 I opened up the bag and was immediately disappointed with what I found. No, there weren't any vegetables, but there was still plenty of reason to be upset. In my pita I found not one, not two, but three whole strips of gyros. Is there a meat shortage somewhere? Even if I was inclined to eat vegetables I would have felt that the sandwich was lacking in protein, but without the veggies it looked even worse. Then I noticed that the other end of the sandwich was a whole lot heavier than the one I had opened up. Could there be meat hiding in there? No. Instead, what I found was enough yogurt sauce to cover a few sandwiches. The sauce easily outweighed the meat and also required use of a fry to be evenly distributed.
Despite the odd quantities, nothing would matter if these gyros were awesome. So were they? Sadly, the answer is no. The meat was strangely rubbery and relatively flavorless. The lack of flavor could be due to the amount of yogurt, but whatever it was, it was a sandwich not worth ordering again. The best part of the meal was definitely the fries. They were crinkly, crunchy and perfectly salted. I'd go back for the fries, but for meat I will definitely look elsewhere.